Once the recording stops, the crucial task of crafting show notes begins. However, they demand something that a lot of podcasters don't have - time.
Enter the realm of AI.
Modern tools can now automate show notes. But amidst a host of options, it can be hard to know which AI tool stands out for your podcasting needs.
In this post, we'll look at the top 6 AI tools for podcast show notes.
1) Show Notes Generator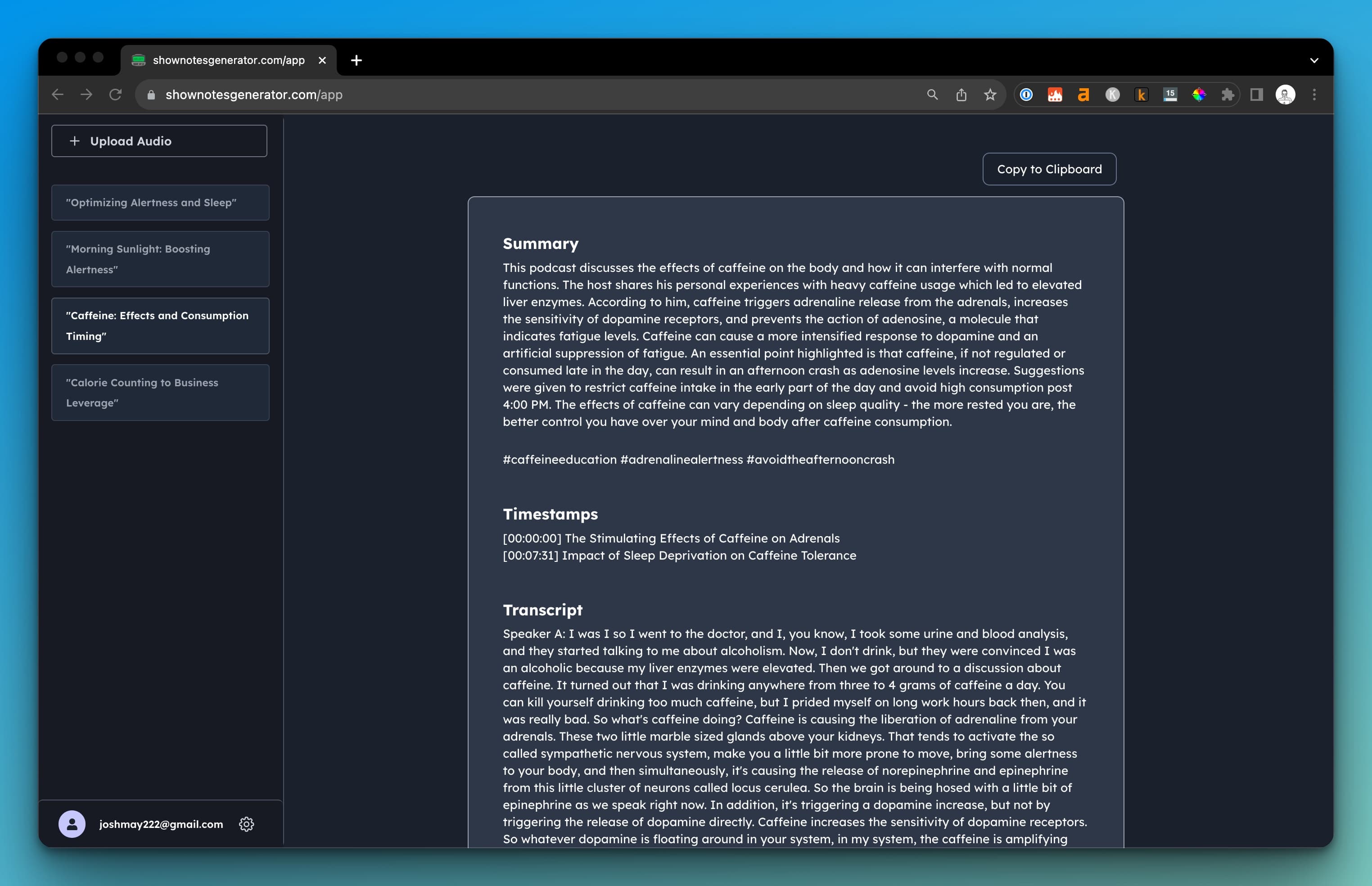 Let's dig into what makes Show Notes Generator a great choice.
Simplicity - One of the most appealing aspects of Show Notes Generator is its user-friendly interface. Whether you're tech-savvy or not, the platform offers a seamless experience that allows you to get your show notes ready in no time.
Quality: Not all AI tools are created equal. This platform guarantees top-tier quality in its outputs. From an accurate transcription to a concise summary, everything you get is of the utmost quality.
Features - Show Notes Automation, SEO Optimization, Integration with Podcast Platforms, Call-to-action Generator, Speaker Identification, Multi-language Support.
If you're just starting out, the Beginning Plan at $19 a month is a good bet.
It covers up to 4 hours of audio conversion, keyword and sentiment optimization, customizable templates, and basic support – basically, a great way for newbies wanting to start automating their show notes.
If you're a podcast veteran or are hunting for a more hefty solution, the Professional Plan at $99 a month is a catch.
It's packed with perks like 12 hours of audio conversion, integration with other cool tools (think Spotify, YouTube, Apple Podcasts), support in multiple languages, and top-notch customer support. It's tailored to satisfy and even surprise the pro podcaster.
2) Swell AI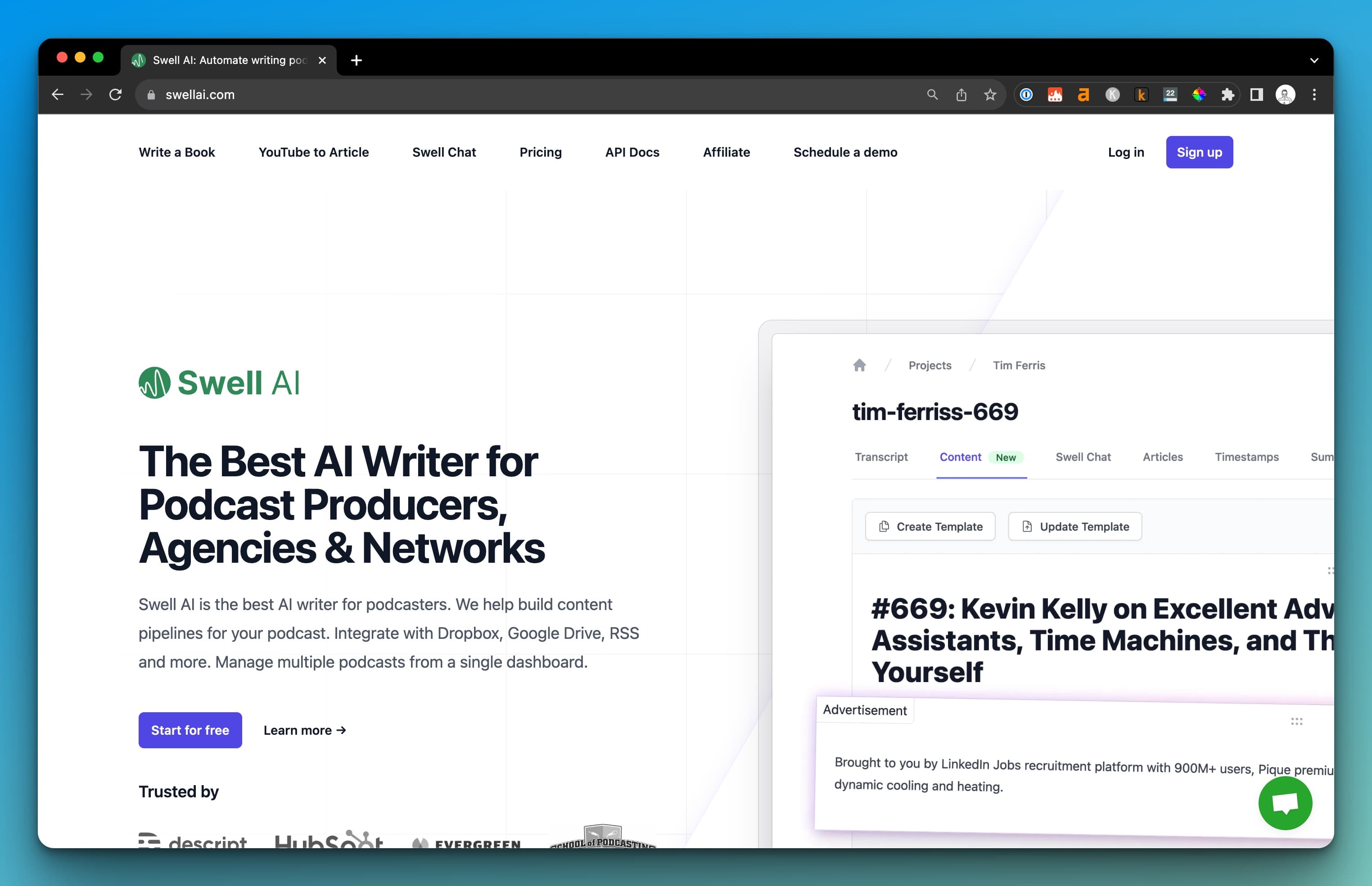 At the heart of Swell AI is its smart podcast show notes feature. It can produce detailed summaries, time-stamps, and key topics, setting podcasters free from the SEO headache.
This isn't just about saving time; it's about improving the quality, making sure your podcast grabs the spotlight it deserves with barely any sweat off your back.
All that being said, Swell AI's pricing is a bit on the higher side for the newbies, tagging the entry plan at $29 a month, compared to Show Notes Generator. This might make podcasters new to the scene pause, especially when the budget is a tight leash.
3) Capsho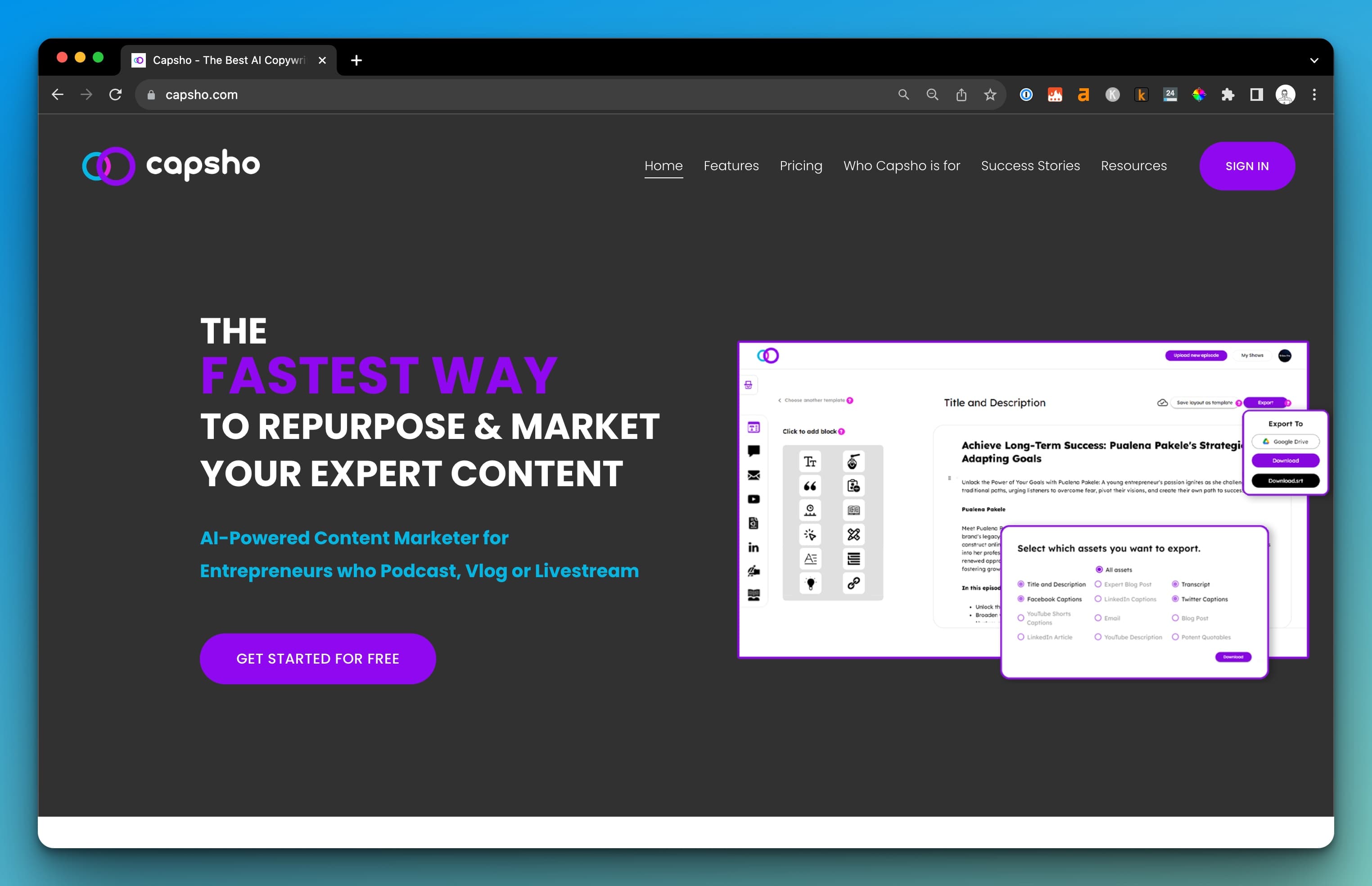 Capsho excels in crafting scroll-stopping titles and descriptions that serve as a magnet to your audience's curiosity, urging them to delve deeper.
Capsho's Social Media Captions feature churns out promotional, engagement, and educational captions tailored for a range of platforms including Facebook, Instagram, LinkedIn, X, and YouTube Shorts, ensuring your content remains top-of-mind across the digital landscape.
Social media isn't everything, though, and Capsho recognizes this.
Its Intriguing Emails feature is engineered to maximize click-throughs, whether it's enticing your list to tune into your latest content or nurturing them in between episodes.
The platform also shines in repurposing content with features like Snackable & Shareable Soundbites, Compelling Strategic Segments for YouTube, and Curated Direct Quotes.
These features extract engaging clips, potent segments, and quotable quotes from your audio or video files, ready to be shared across social platforms or on YouTube, encapsulating the essence of your content in bite-sized, shareable formats.
Capsho's Short-form Video Script Generator and the four types of Blog Posts feature extend the life and discoverability of your content by generating scripts for short-form videos and crafting SEO-friendly blog posts respectively.
Finally, for those looking to cement their thought leadership on LinkedIn, Capsho offers a feature to create a LinkedIn Article, further enhancing your credibility and authority among your connections and beyond.
Capsho has a pricing model that caters to varying needs. Starting with a 14-day free trial offering 2 credits, it provides a taste of its capabilities without any financial commitment.
The Content Domination plan at $79/month and the Content Domination + SEO Boost plan at $129/month offer escalating levels of features and credits to suit the demands of serious content creators and marketers.
4) Podcast Marketing AI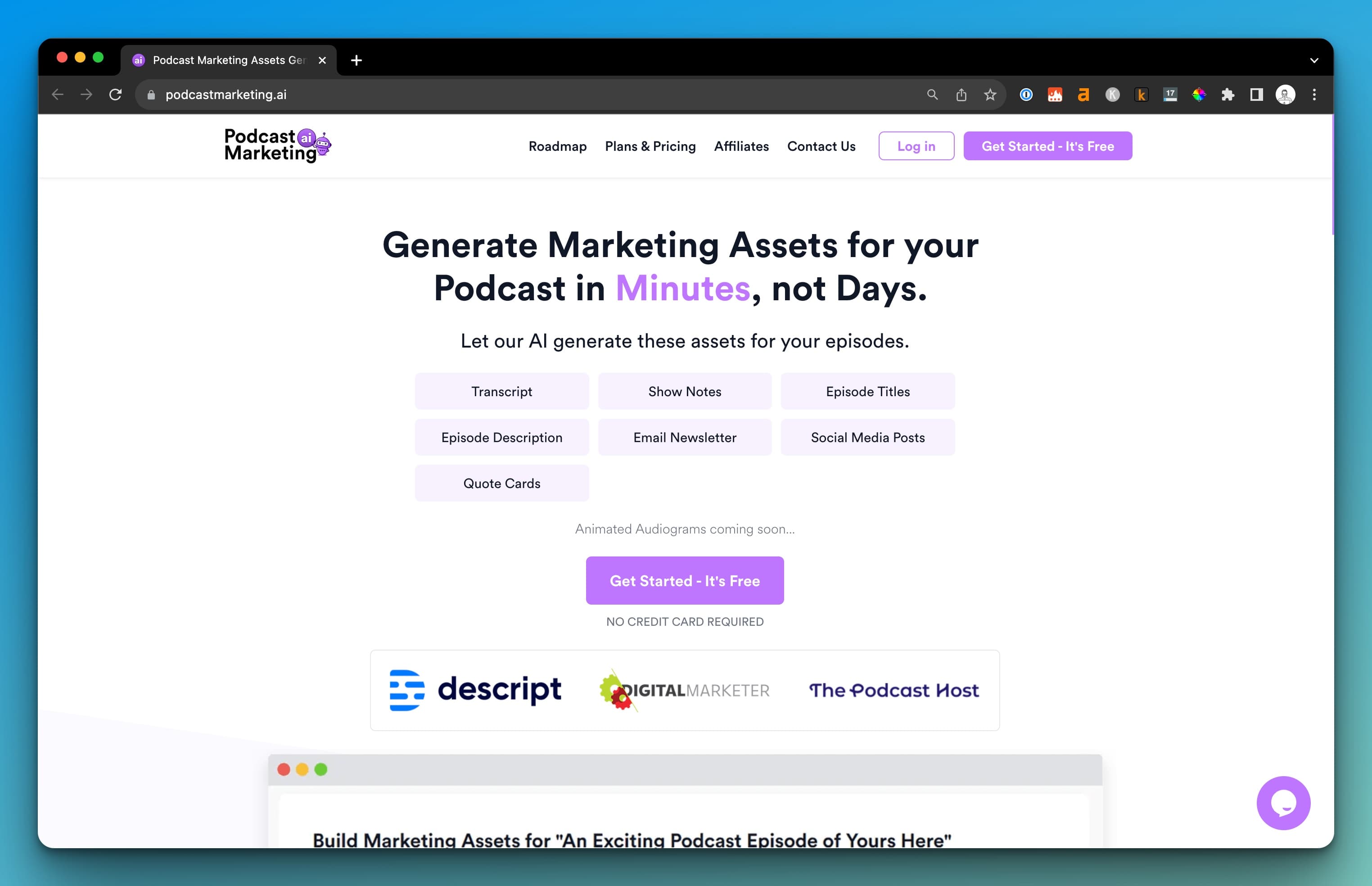 The Show Notes feature is where Podcast Marketing AI seeks to lure your audience into the depths of your episodes while tossing in SEO benefits to sweeten the deal. The goal is clear: elevate your ranking on Google Search, making it easier for potential listeners to find your work.
Crafting compelling Episode Descriptions and Titles is an art, and this platform aims to be your digital brush. The enticing descriptions and captivating titles are designed to snag the curiosity of potential listeners, ushering them towards hitting the play button.
In today's socially connected era, your podcast's social media presence is as crucial as the content itself. Podcast Marketing AI steps up the game with automated Social Media Posts creation for Facebook, X, LinkedIn, and Instagram, aimed at propelling your latest episodes into the social stratosphere swiftly and effectively.
Now, here's where Podcast Marketing AI throws in a curveball - the Quote Cards feature. This unique gem automatically extracts quotes from your episodes, refashioning them for maximum impact. Unlike other platforms, this feature could be a game-changer in how you engage with your audience on social platforms, adding a personalized touch to your outreach efforts.
On the pricing front, Podcast Marketing AI offers an enticing $9 a month package for beginners, albeit with a catch.
This plan allows for the automation of just one podcast a month, a limitation that might not sit well even with hobbyist podcasters who tend to have a more frequent publishing schedule.
5) Podium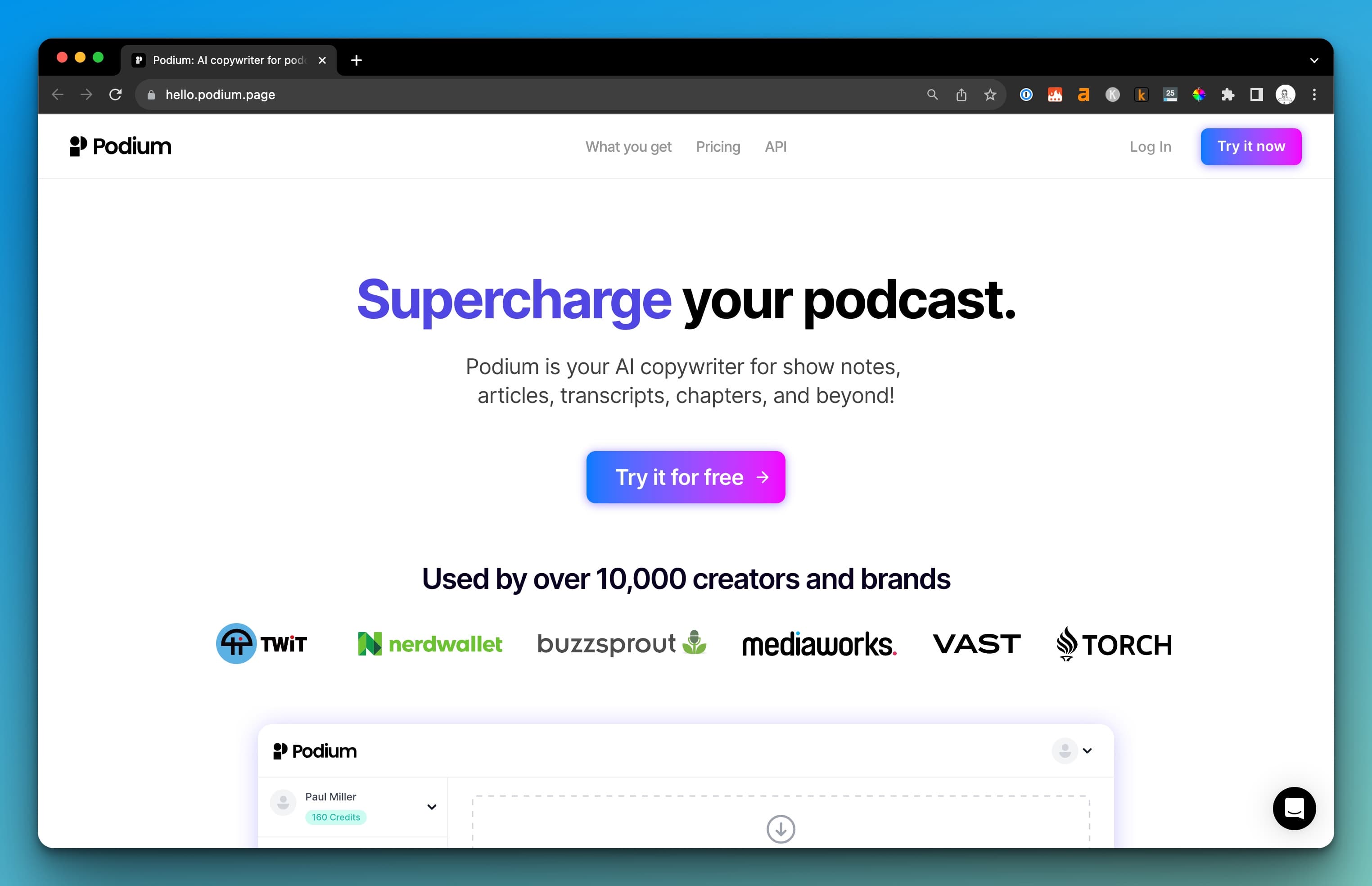 Podium's Shownotes feature provides a concise summary of your episode, alongside well-structured chapters making the final touch-ups a breeze.
The Chapters option segments your episode into core topics, formatted in a manner that's digestible and ready to be deployed on platforms like Spotify and YouTube.
Podium also has a transcripts feature, which helps to make your podcast more accessible and searchable.
It offers two different formats for your transcripts: .TXT and .VTT -- both of these formats give you an addd layer of convenience.
One of Podium's standout features is the Highlight Clips. This gem scours through your episode to pinpoint and transcribe the "best of" moments, a boon for creators keen on showcasing their podcast's highlights without sifting through hours of content.
Now, here's where Podium breaks the mold - the Podbook feature. This beta offering is the first of its kind, turning podcasts into complete books.
By importing your podcast episodes, Podbook organizes and crafts a first draft, setting the stage for you to edit and publish. This innovative step could be a game-changer for podcasters eyeing the book-publishing horizon.
With a tempting offer of three free audio hours to explore its features, Podium lays down a red carpet for podcasters to experience its offerings without a dent in the wallet.
6) Dubb
Dubb's primary allure lies in its promise to convert podcast episodes into engaging content across multiple platforms, all within a span of a few hours.
This includes Episode Titles, Episode Descriptions, and Keywords, which are the cornerstone for any podcast marketing strategy. By crafting catchy titles and descriptions, Dubb aims to draw listeners into the core of your episodes.
In the realm of social media, Dubb extends its magic to create TikTok Videos, LinkedIn Posts, X Threads, and tailored Posts for each podcast. These offerings are geared towards amplifying your podcast's footprint across the social spectrum.
The Newsletter Posts feature is a nod to email marketing, providing a way to keep your audience engaged and returning for more.
With newsletters being a great channel for audience retention, this feature is a valuable addition to the Dubb arsenal.
A feature that stands out is the Transcripts feature. By providing a textual rendition of your audio content, Dubb aids in making your podcast more searchable and accessible.
On the pricing front, Dubb rolls out two plans - the Creator plan at $24.99/month for 10 hours of podcast audio, and the Pro plan at $59.99/month for 30 hours of podcast audio. The tiered pricing and the difference in support response time cater to podcasters at varying levels of professional engagement.
Wrapping Up
From our deep dive into various AI tools available, Show Notes Generator emerges as the clear leader of the pack. Its user-friendly interface ensures a hassle-free experience, even for those less familiar with tech.
Quality is assured, from precise transcription to succinct summaries.
With features that range from seamless SEO optimization to speaker identification and multi-language support, it stands unmatched.